The Celtics showed off their new firepower in Sunday's preseason opener against the 76ers but rust was apparent in the team's 114-106 victory. Boston opened up the game shooting just 28 percent from the floor and 25 percent from 3-point range in the first quarter, digging themselves a 13-point hole at TD Garden. Kristaps Porzingis (17 points) was the only Boston starter to gain any semblance of an offensive rhythm early on.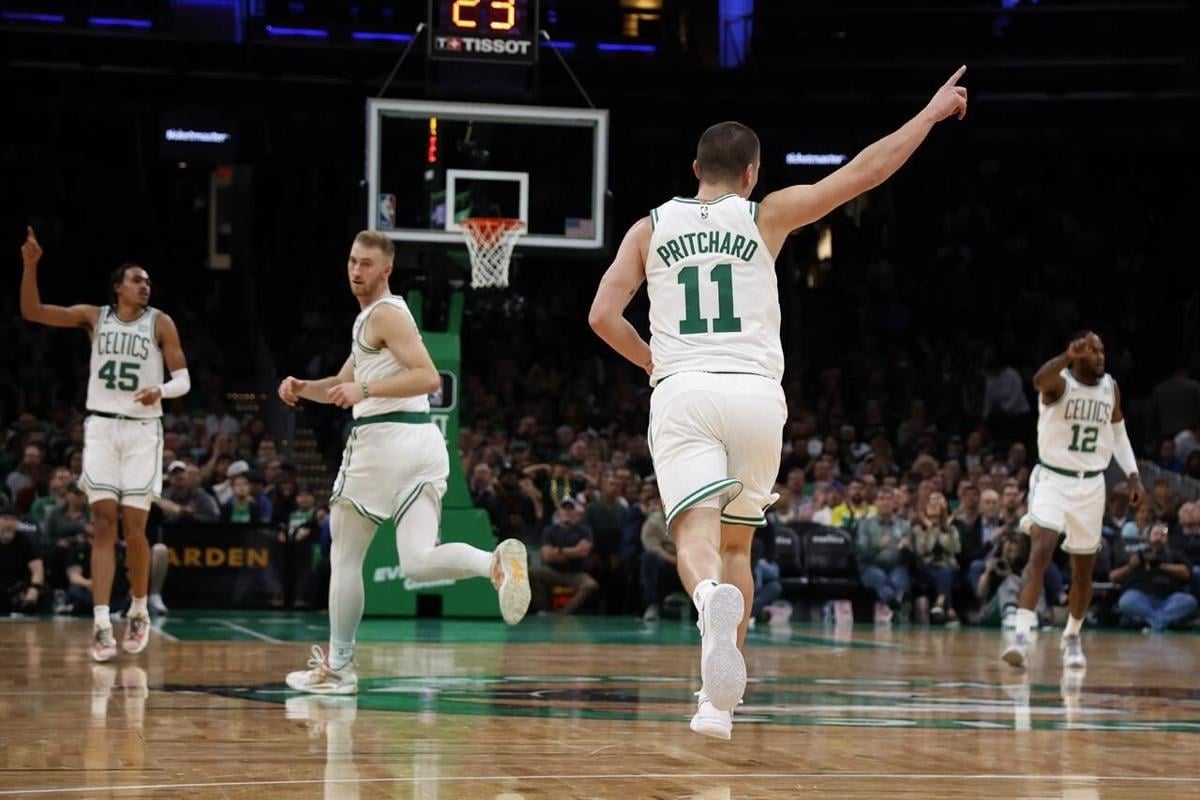 Jayson Tatum (3-of-13 FG) and new addition Jrue Holiday (2-of-10 FG) struggled out of the gate but the team got back into the game with a 39-point second quarter. Philadelphia played without stars Joel Embiid and James Harden but still had their way offensively for much of the night against Boston thanks to speedy guard Tyrese Maxey (game-high 24 points). The reserves from both teams closed things out in the fourth quarter with Payton Pritchard (team-high 26 points) helping to rally Boston to a victory.
The Celtics have a quick turnaround coming up with a back-to-back on Monday night against the Knicks. Look for several regulars to get the night off for that one.
Here are four takeaways from Sunday's contest:
Celtics start with double bigs and a surprising 6th man: Joe Mazzulla said not to read into any lineups before the preseason opener but that won't stop us from looking into a fascinating choice in night one. Jrue Holiday was the 6th man for the matchup with Boston going double bigs with Al Horford and Kristaps Porzingis. Given his late arrival to training camp, it's no surprise that Holiday was eased in as he seems to be a lock to be a starter opening night. However, the more intriguing decision comes with the final spot which will also certainly be decided between Al Horford and Derrick White. Brad Stevens talked all summer long about being excited about playing bigger with Porzingis so Horford is the logical choice to start next to him if they want to play big across the board. Whether that's the best fit for the team's entire rotation remains to be seen but Sunday's lineup was a step in that direction.
Payton Pritchard making his extension look like a smart bet already: The Celtics were suffering through a offensive malaise in the first quarter but the fourth-year guard snapped them out of it with a buzzer beater 3 to close the first quarter. From there, Pritchard proved to be a spark plug in the second unit on both ends of the floor. He pushed the pace, provided good defensive ball pressure and most importantly hitting his open 3-point looks. Pritchard finished with 10 points off the bench in the first half alone on 3-of-5 shooting from the field, fueling a 13-point rally in the second quarter before his fourth quarter heroics. The team bet big on his future with Sunday's extension and he looks primed for a breakout after this performance.
Philadelphia 76ers guard Patrick Beverley (22) drives against Boston Celtics guard Payton Pritchard (11) during the first half of a preseason NBA basketball game Sunday, Oct. 8, 2023, in Boston. (AP Photo/Mary Schwalm)AP
Kristaps Porzingis delivers strong debut: With Boston's revamped frontcourt, all eyes were on the 7-foot-3 big man in his first action since being diagnosed with plantar fasciitis earlier this summer. The big man knocked down his first shot of the game, a wing 3 from Jayson Tatum and didn't slow down much from there, scoring a team-high 13 points in the first quarter on a perfect 4-of-4 shooting from the field. More important than the distance shooting was Porzingis finishing around the basket, as he finished a pair of dunks including a thunderous lob from Derrick White in the pick-and-roll. He also showed some of the flaws of his game (the Sixers took advantage of his drops in the pick-and-roll) but the offensive upside was on display. Finding some chemistry with Boston's stars will be a work in progress but he looks healthy ahead of a critical campaign. Porzingis finished with 17 points on just seven field goal attempts over his 25 minutes.
Luke Kornet doesn't add to his case at backup center: The double big starting lineup means the Celtics will have to go deeper into their bench for bigs and Luke Kornet got the first chance on Sunday night. While Kornet delivered an admirable campaign last season when called upon, his flaws were on display in this matchup. He fumbled a pass from Jrue Holiday in a pick-and-roll and failed to finish another easy look at close range. He's a good end-of-bench option but the Celtics will probably keep their eye around the league for more alternatives after this performance if they want to punish teams more on the interior.