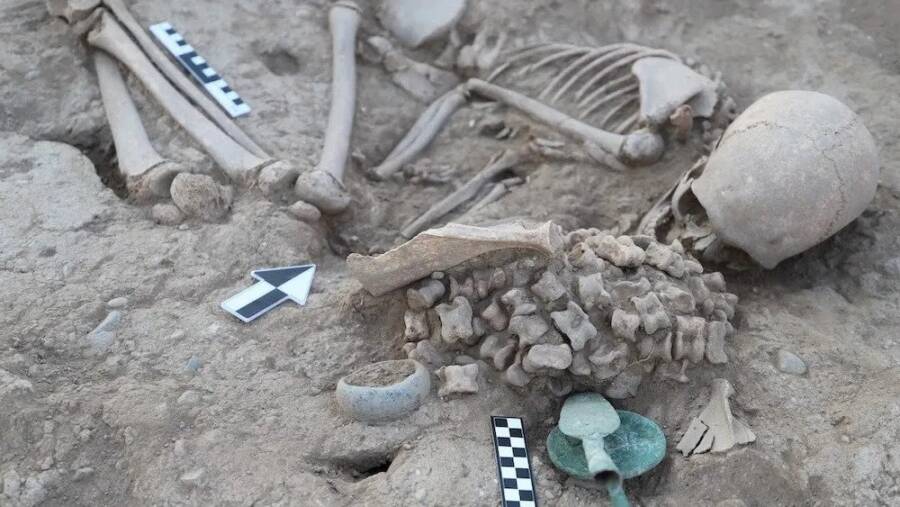 Thousands of years ago, a young girl was laid to rest in present-day Kazakhstan with a number of peculiar grave goods, including 180 animal ankle bones and a small, intricate carving of a frog on a disc. Now, archaeologists excavating the site are working to discern their meaning.
According to The Astana Times, an English-language news outlet in Kazakhstan, the burial was discovered through a joint effort from Al-Farabi Kazakh National University (KazNU) and Cambridge University.
The girl's grave is located near Ainabulak village in the east of the country and dates from Central Asia's Bronze Age, which lasted from roughly 3200 B.C.E. until 1000 B.C.E. Hers is one of more than 100 Bronze Age burial mounds that the archaeologists have uncovered at the site.
But her grave certainly stands out.
As Live Science reports, archaeologists found that she was buried with 180 ankle bones that likely came from sheep or cattle, as well as three cows' shoulder blades, multiple metal pommels, a mirror, a bronze bowl, and, intriguingly, a small bronze disc carved with the depiction of a frog.
To archaeologists investigating the site, these grave goods are curious indeed. Though animal bones have been found in similar graves in the region, the sheer number of bones in this grave is remarkable. Rinat Zhumatayev, who oversees the Department of Archaeology, Ethnology and Museology at Al-Farabi Kazakh National University in Kazakhstan, and led the dig, noted that the bones could have any number of meaning.
Including the animal bones in a Bronze Age burial could have been part of a "cult practice," Zhumatayev explained to Live Science. Alternatively, they could have been "symbols of well-being" and "good luck" that were meant to signify "a wish for a successful transition from [one] world to others."
The frog disc, however, is something of a mystery. It's the first time that such an object has been found in Kazakhstan.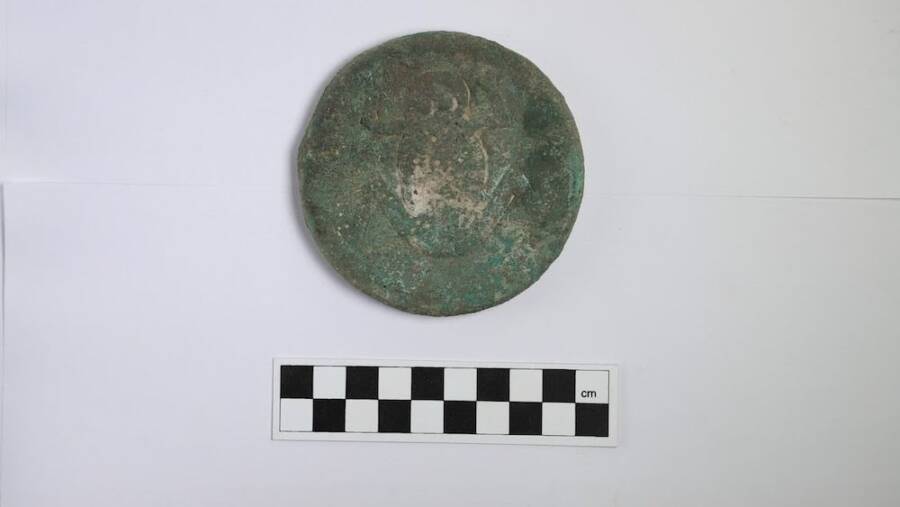 Kazakh Ministry of Science and Higher EducationThe frog disc is the first of its kind to be found in Kazakhstan.
"The image of the frog has [had] different meanings among many peoples since antiquity," Zhumatayev explained to Live Science. "It's associated with the image of a woman in labor and the cult of water… but requires more study [to determine its true meaning]."
Though there's still much for the archaeologists to learn about the girl herself, they suspect that she was buried with particular attention and care.
The girl was "buried on her left side, bent over," Zhumatayev explained. "There were small wire earrings in both ears and beads around her neck."
Archaeologists are hopeful to learn more about the girl and about the site in general. As The Astana Times reports, they also created "a full topographical plan of the Ainabulak-Temirsu burial ground," investigated several other burial mounds, and identified three ancient settlements.
These findings "have an important historical and cultural significance for the study of the early stages of the Bronze Age," Zhumatayev noted.
Next, researchers will take metal objects, bones, and soil discovered at the site back to Cambridge, where they were continue their study at university labs. Hopefully, this study will reveal more about the girl buried with the animal bones, as well as the Bronze Age civilization that she called home.
After reading about the Bronze Age burial found in Kazakhstan with over 100 animal ankle bones, go inside the puzzling discover of 8,000 Iron Age frog bones in an English ditch, possibly the site of a "prehistoric frog tragedy." Or, see how archaeologists in Italy uncovered animal bones and ancient Roman snack food while excavating an area beneath the Colosseum.