The recent news that Messi surpassed the legendary Brazilian goalkeeper Rogério Ceni in free-kick goals is a testament to his undeniable prowess. With a total of 64 free-kick goals in his career to date, Messi demonstrates remarkable accuracy in finding the right angle to beat the world's most skilled goalkeepers.
Among Messi's many feats, perhaps the most impressive is his dominance at Barcelona, where he scored 672 official goals. This is a notable record, making him the highest goal-scorer for a single club in the history of soccer, considering official matches. During his long and fruitful stint at the Catalan club, Messi not only amassed titles but also accumulated magical moments, many of which came from his impeccable free-kick strikes.
In 2018, Messi set his personal annual record of ten free-kick goals, once again showcasing his ability to reinvent himself and continually refine his skills. His first free-kick goal was scored in 2008 when Barcelona handed a resounding 6-1 defeat to Atlético Madrid in La Liga. This iconic moment marked the beginning of an unforgettable series of free-kick goals that captivated the soccer world.
Apart from his impressive contribution at Barcelona, Messi has also made his mark at other clubs, such as Paris Saint-Germain, where he has already scored 32 goals in 75 appearances, and more recently at Inter Miami CF, where he has already contributed eleven goals. These numbers not only underscore his consistency but also his ability to adapt to different teams and leagues.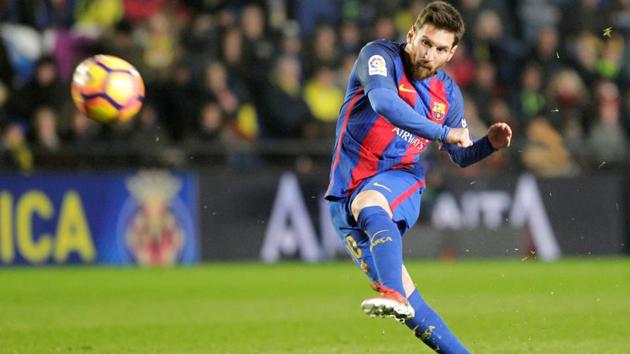 Now, as the captain of the Argentina National Team, Messi has also demonstrated his ability to lead by example, scoring ten free-kick goals for the national squad. With this, he not only enriches his personal legacy but also elevates Argentine soccer to new heights.
Lionel Messi is not only one of the greatest soccer players of all time but is also a master in the art of scoring free-kick goals. His surgical precision and ability to adapt to different situations set him apart as a living legend of the sport. As his career continues, it is exciting to think about what more he can achieve and the magical moments he will provide us. Messi is unquestionably a treasure of the soccer world who will continue to shine for many years to come.