During the gathering of the Portuguese national team for EURO 2024 qualifiers, Cristiano Ronaldo appeared cheerful and bright. He was seen smiling in the team's training session. Recently, Ronaldo posted a photo on his personal Twitter account where he was captured wearing a white plain t-shirt with accessories such as sunglasses, watch, earrings, and ring. He looked handsome, and it's no secret that CR7 has always been known for his stylish taste in fashion.
During the national team gathering for the EURO 2024 qualifiers, Ronaldo appeared confident and energetic. He was seen smiling and in high spirits during practice sessions with the Portugal squad. The team is preparing for upcoming matches against Slovakia on October 14th and Bosnia & Herzegovina three days later. Portugal currently leads Group J with a perfect record of wins, scoring 24 goals and conceding none. A victory against Slovakia would guarantee their place in the tournament. Ronaldo had previously been suspended for one game due to accumulating three yellow cards in the qualifiers. However, he will now be eligible to play in the crucial matches that will decide Portugal's fate in the EURO 2024.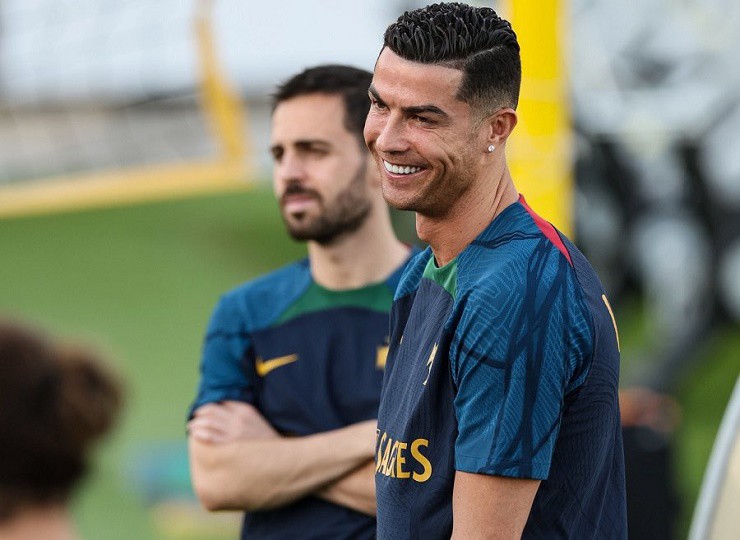 The expression on Ronaldo's face shows that he is very excited. So far, he has scored 5 goals for the Portugal national team in the EURO 2024 qualifiers, ranking only behind Romelu Lukaku of Belgium (8 goals), Rasmus Hojlund of Denmark (6), and Scott McTominay of Scotland (6). If used in the match against Slovakia, Ronaldo will make his 202nd appearance for the Portugal national team. Moreover, CR7 also has the opportunity to extend his record as the all-time leading scorer in international football, which he currently holds with 123 goals. Ronaldo is currently in impressive goal-scoring form with Al Nassr. This season, the 38-year-old player leads the scoring chart in the Saudi Arabian League with 10 goals in 8 matches.