Jayson Tatum shoots during the third quarter of the game against the Brooklyn Nets. Dustin Satloff/Getty Images CNN —
Jayson Tatum made Boston Celtics history on Saturday as he became the youngest player to score 10,000 points for the franchise, a landmark he reached during their 124-114 victory over the Brooklyn Nets.
"That's special. That's cool," he said afterwards, according to the Celtics' official website. "I've just been blessed to be in a great franchise. I've had some great teammates, some great coaches, that have contributed to helping me get 10,000 career points."
Starting the game 16 points shy of 10,000 career points, Tatum reached the landmark in the second quarter with a free throw after a spinning layup that had drawn a foul.
Ad Feedback
Aged 25 years and 246 days, he is almost a year younger than the previous record holder Antoine Walker, who reached 10,000 career points aged 26 years and 131 days, and the 10th youngest person in NBA history to reach the milestone.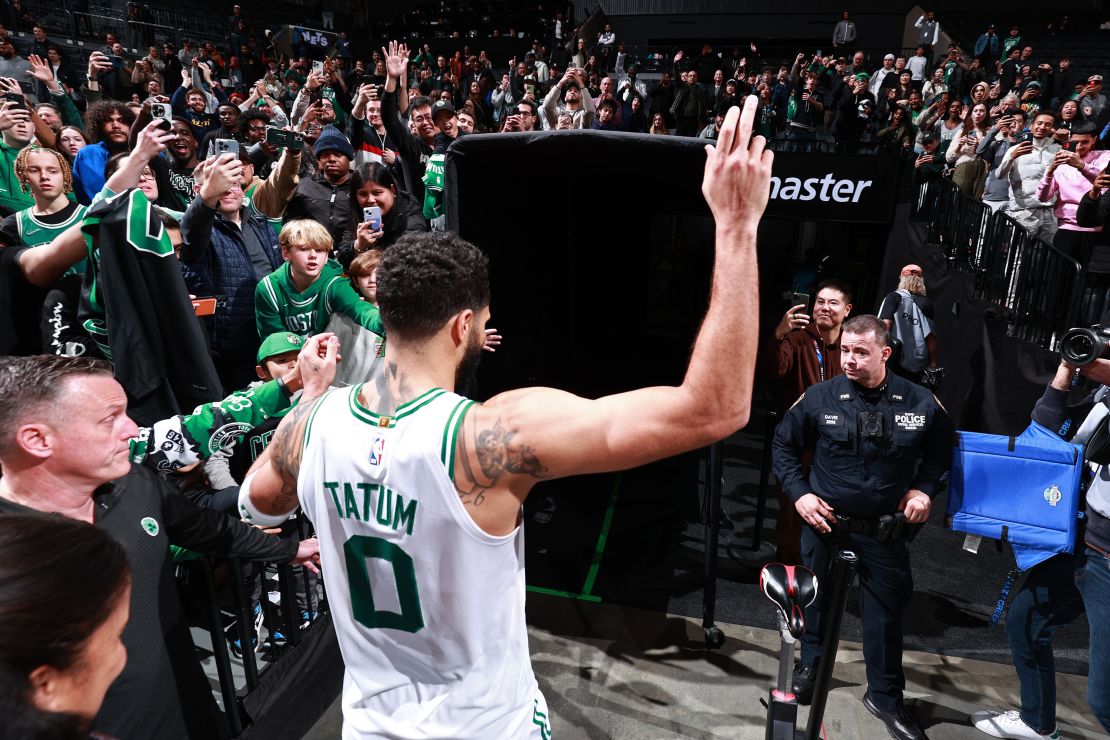 Tatum is the 10th youngest player in NBA history to reach the milestone. Nathaniel S. Butler/NBAE/Getty Images
Tatum poured in 32 points against the Nets, the fourth time he has scored more than 30 points this season, as the Celtics extended their unbeaten streak.
His coach Joe Mazzulla paid tribute to Tatum's "open-mindedness" and work ethic afterwards as he celebrated his star player's achievement.
"He shows up to work every single day, he puts the work in, he dedicates his life to it, he doesn't miss days, he doesn't miss practices, games," Mazzulla said, per the Celtics' website.
"And just his open-mindedness of wanting to be coached, and wanting to be held to a high standard … He's one of the guys that sets the tone for us."
Elsewhere in the NBA, the Orlando Magic defeated the Los Angeles Lakers 120-101, led by Franz Wagner and Paolo Banchero who scored 26 and 25 points respectively.
The Philadelphia 76ers secured a 112-100 win over the Phoenix Suns as Joel Embiid contributed his third consecutive double-double with 26 points and 11 rebounds, while the Denver Nuggets defeated the Chicago Bulls 123-101.