The Saudi Pro League presents Cristiano Ronaldo with the chance to win his third straight individual trophy while wearing the Al Nassr outfit.
Especially in the Saudi Pro League, "explosive" is arguably the best way to characterize Cristiano Ronaldo's 2023–2024 season with Al Nassr. CR7 leads the competition in both categories with 12 goals and 7 assists after 12 rounds.
He was awarded the Saudi Pro League's "Best Player" title for two months in a row, August and September, thanks to his compelling and outstanding performance. Not only that, but Ronaldo has the chance to win his third straight individual trophy in Al Nassr since the start of the season.
Ronaldo's cannon blast during Al Nassr's match against Al Khaleej on November 5 reportedly made the top 3 lists for the best goal of the round, according to information from the Saudi Pro League homepage.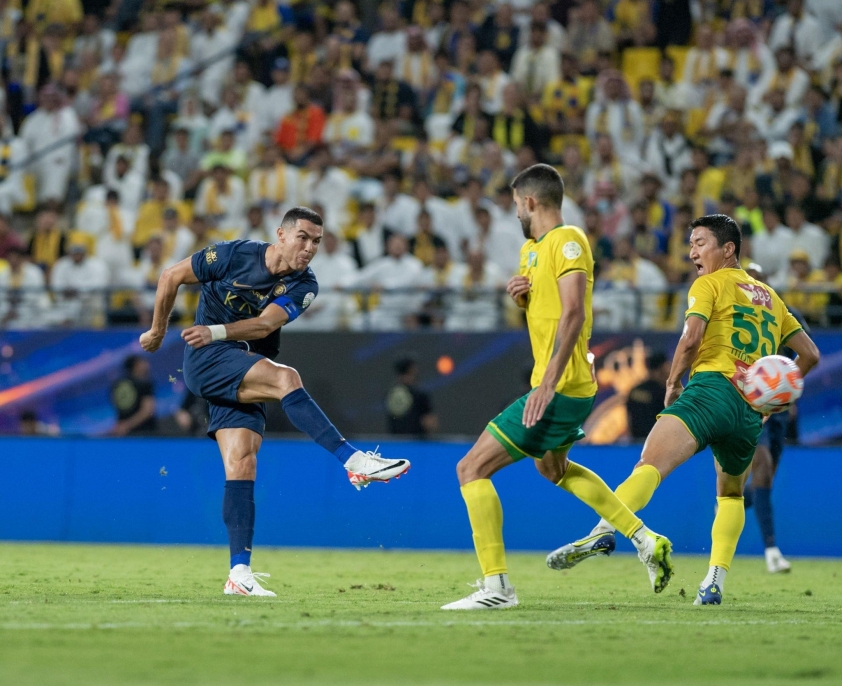 Ronaldo was nominated for "best goal in round 12 of the Saudi Pro League" with his stunning long-range shot against Al Khaleej (photo: Getty)
The two remaining names in the race are striker Salem Al-Dawsari with a solo shot past 3 people in the match Al Hilal 2-0 Al Fateh and midfielder Bernard Mensah of Al Taee with a long shot into the A corner against Al's net. Feiha.
But it seems that the race will be a duel between Ronaldo and Salem Al-Dawsari. The striker of Al Hilal and the Saudi Arabian national team initially led with more than 50% of the votes thanks to the support of local fans.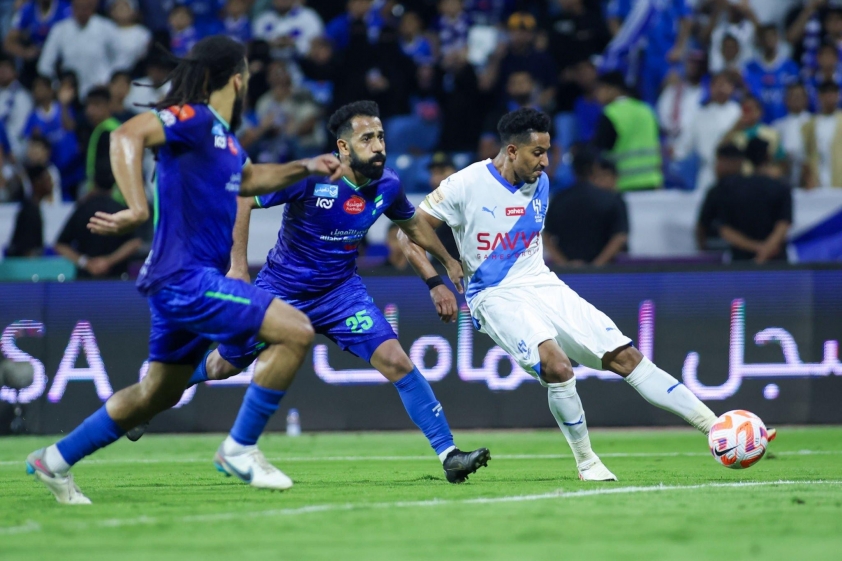 Salem Al-Dawsari received a large number of votes from local fans to compete with Ronaldo in the "best goal round 12 Saudi Pro League" race (photo: Getty)
For his part, Ronaldo only started with about 45% of the vote. Meanwhile, the remaining candidate, Bernard Mensah, only received less than 3% of the votes.
Things then quickly changed direction when the total number of votes for CR7 increased sharply beyond the 55% mark. In contrast, Al-Dawsari's support percentage dropped to nearly 40%.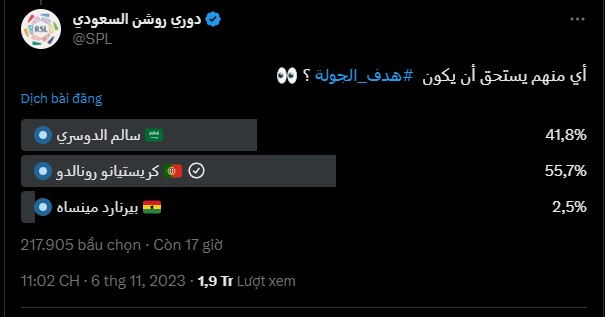 Ronaldo (2nd row) made a spectacular comeback despite being ahead by Salem Al-Dawsari (screenshot)
This comeback is definitely thanks to Ronaldo's strong fan base around the world. If this momentum keeps up, the award for best goal in round 12 of the Saudi Pro League is considered to be in Ronaldo's hands.