On Friday evening, the Boston Celtics will host the Brooklyn Nets in Massachusetts.
For the game, both teams have finalized their injury reports and starting lineups.
The Nets have ruled out Nic Claxton, Noah Clowney, Keon Johnson, Ben Simmons, Cam Thomas, Dariq Whitehead and Jalen Wilson.
Cameron Johnson has been upgraded to available.
Meanwhile, the Celtics have ruled out JD Davison, Al Horford, Nathan Knight, Neemias Queta and Jordan Walsh.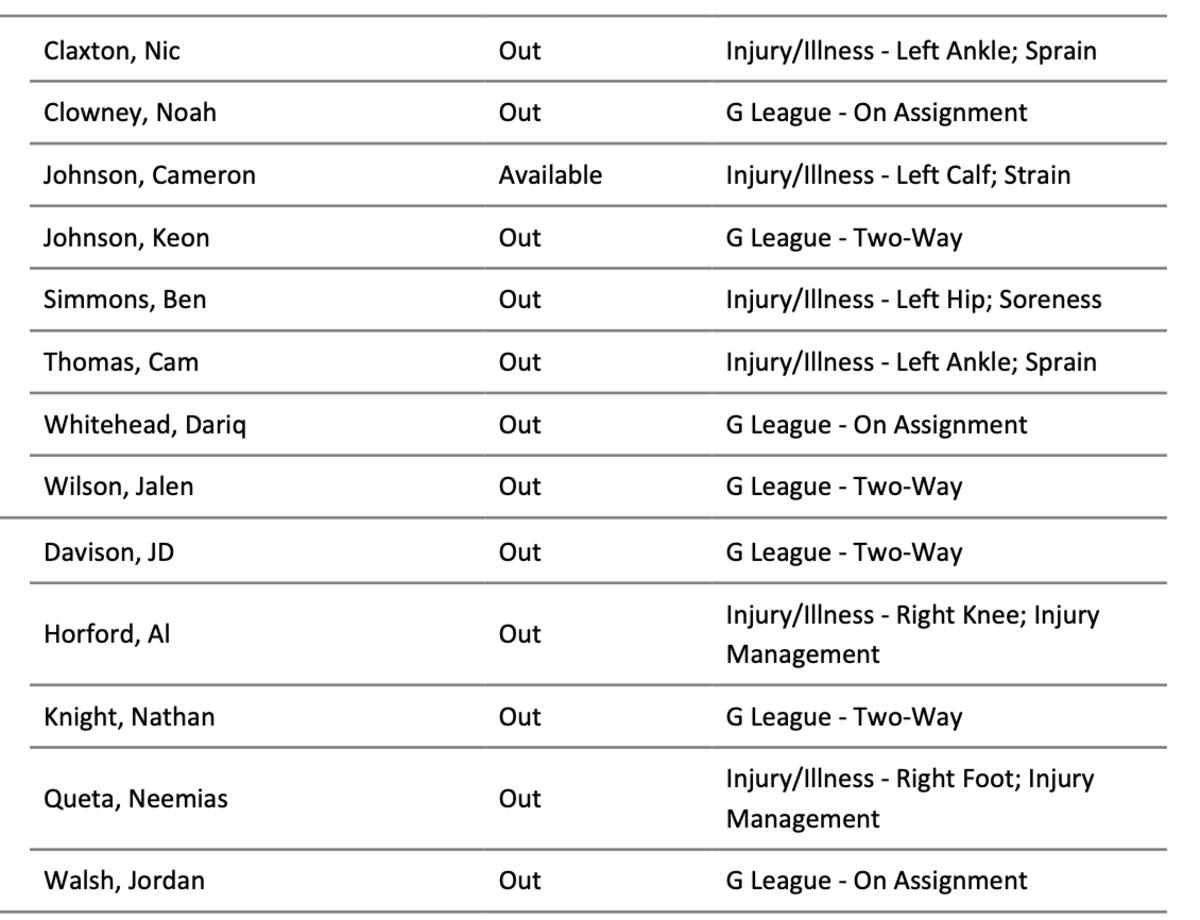 Nets-Celtics
The starting lineups for both teams have been announced by Underdog NBA.
Via Underdog NBA: "Lineup alert: Nets will start Dinwiddie, Bridges, O'Neale, Johnson, Finney-Smith on Friday."
Via Underdog NBA: "Lineup alert: Celtics will start Holiday, White, Brown, Tatum, Porzingis on Friday."
The Nets enter the evening with a 4-4 record in their first eight games and most recently defeated the Los Angeles Clippers (at home) by a score of 100-93.
Lonnie Walker IV led the team with 21 points while shooting 8/16 from the field in 28 minutes of playing time.
Following the Celtics, the Nets will host the Washington Wizards at Barclays Center on Sunday.
As for the Celtics, they started out the season 5-0 but have lost each of their last two games.
Most recently, they lost to the Philadelphia 76ers by a score of 106-103.
Kristaps Porzingis led the team with 29 points, six rebounds, three assists and one block while shooting 10/19 from the field in 31 minutes of playing time.
Following the Nets, the Celtics will play their next game on Saturday evening when they host the Toronto Raptors.