When it comes to well-dressed athletes, there are few players on Jordan Clarkson's level. Most recently, his sartorial prowess was on full display as he navigated his way through New York Fashion Week. He stood side-by-side with Tommy Hilfiger rocking an oversized striped rugby sweater from the iconic designer's eponymous label. He stepped out of his hotel lobby in a Canadian tuxedo from Demna's Balenciaga with a massive crucifix pendant created by rising jeweler Alex Moss swinging from his neck. For the Harper's Bazaar Global Icons Portfolio and Bloomingdale's 150th Anniversary event he went with a head-turning Thom Browne ensemble consisting of a sleeveless gray tweed suit jacket and matching skirt.
Seeing someone like Clarkson wearing pieces from these designers should come as no surprise. But one of the Jazz forward's recent fashion partnerships may be a bit more shocking. Clarkson is the face of the latest campaign for activewear brand Lululemon.
The "Your Move" campaign shows off Clarkson in various items from the brand, ranging from neon yellow Pace Breaker shorts ideal for training to more lifestyle-leaning silhouettes like tan trench coats. Lululemon may not be the first brand you would expect the guy who just starred in Ye's Yeezy SHDZ campaign to give a co-sign to, but Clarkson sees the potential for its next chapter.
"Honestly, they're taking the brand to another level. Fashion, fitness, whatever it is. I think they are growing in all facets of that," Clarkson tells Complex. He's especially fond of the Parkway Insulated Coat he can be seen rocking in the lookbook. "That's like my favorite piece ever," he says.
If anyone can add some cachet to a brand like Lululemon, it's Clarkson. His status as one of the best-dressed players in the NBA is cemented. But is he the best? While he's sure to give flowers to other players like Kyle Kuzma and Frank Jackson, he thinks so.
"Everybody got their own style," says Clarkson. "But I think I'm the best dressed for sure."
On the court, Clarkson will have his own set of hurdles to overcome entering his ninth NBA season. The former Sixth Man of the Year has seen his Utah Jazz lose its two biggest stars, Donovan Mitchell and Rudy Gobert, this offseason. While Clarkson's name has been floating around in trade rumors as well lately, he is ready to do whatever it takes to win, no matter what team he ends up starting the season with.
"I'm ready for whatever happens," says Clarkson. "If I'm in a different jersey in a week or tomorrow I get a phone call and I have to put on whatever jersey it is, I'm just trying to win and take whatever team it is to the next level to hopefully win a championship one day."
Check out our full conversation with Clarkson about his Lululemon partnership, NBA fashion, his thoughts on all of the big moves the Utah Jazz made this offseason, and more, below.
This interview has been edited and condensed for clarity.
Image via Lululemon
Can you talk a bit about the partnership you have going with Lululemon? What makes them the right partner for you and what you're doing right now?
The relationship came organically. It's something new, something very great, that I believed in. Honestly, they're taking the brand to another level. Fashion, fitness, whatever it is. I think they are growing in all facets of that.
I know right now we see you in the campaigns. You're in the big window display and everything at the stores. Can we expect some sort of collaborative apparel from you as part of the partnership in the future? Is that something that you would want to get into?
We'll see. I'm very creative in everything I do, from clothes to fashion, so maybe. We can leave that up in the air. If they let me be me, we'll see.
The campaign highlights mental health. Everyone is always talking about the importance of physical conditioning with pro athletes, but can you talk about how important mental health for athletes is?
It's been a big thing, a big part of taking the next step in my career and growing as a human being. I've always done the working out, being in the gym early in the morning and working out all day. But taking the time and focusing on your breathing, your brain, meditating, really just focusing on yourself, has been a big step for me as a human. It's made me a better person and kept me in a great state of mind, honestly.
Obviously during the season things can get a bit hectic with the travel and the games and everything. What are some of the things that you do to keep your head right during the season?
For me, I just take my time to get away. Sometimes it's in the hotel room just cutting everything off. I like sitting in a quiet room. I just close my eyes, breathe, and listen to everything that's going on around me. I'm taking it all in and really enjoying that moment and in time. That's in the room. That's on the buses. Sometimes I don't even have anything on in my headphones. I'm closing my eyes and just listening to what's going on around me.
Top StoriesREAD MOREComplex Shows & Original Series: Find TheLatest Episodes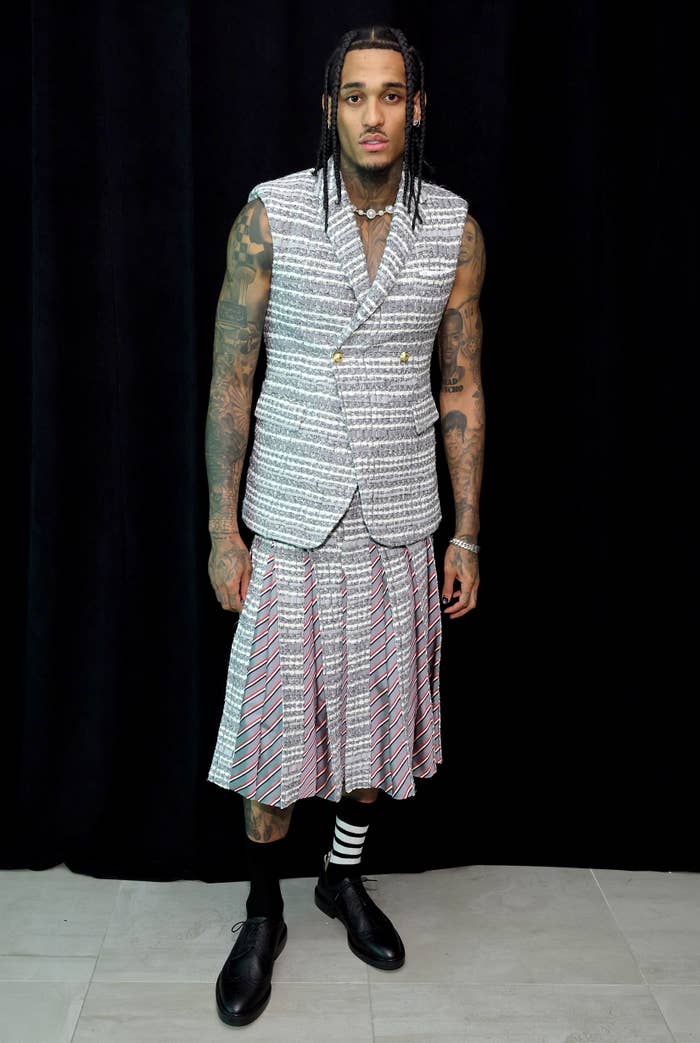 Image via Getty/Cindy Ord
I also wanted to touch on some style stuff. I know you've been out at New York Fashion Week. Is there a standout show or moment that you've been a part of?
Everything's been really great. Givenchy was really dope. Matthew [Williams] does a good job of putting his clothes together. The Tommy [Hilfiger] show was really cool. I think Jaylen Brown had something to do with what was going on over there. It rained out, but it was cool seeing Travis [Barker] on the drums. The rain was pretty dope too. For the aesthetic, I think it worked. Travis just beating on the drums and the water splashing off was pretty hard.
You're not the only NBA player out in the city right now. Is it cool to see that continued evolution of the NBA with fashion? A lot of you guys are really integrated into the fashion world now.
It's just really dope. It's just another lane for hoopers, for anybody, just to chase what they want to and be a part of something that they really care about. If you're creative, you're able to do it. So, this is just another lane that has already been created for us and we're all stepping into it. It's just opening other lanes for the younger guys coming up in the NBA to do that.
One of the standout outfits that I've seen posted was that Thom Browne fit that you wore, the vest with the skirt. How did that one come together?
I think all Thom Browne's clothes are really great. He has a great creative direction. I think Shai [Gilgeous-Alexander] walked in the show in Paris. So, I just walked in the store and tried to figure out what was coming out the next season. I think [the outfit I wore during NYFW] doesn't drop until this summer. It was just an organic pick for me.
Me and the Thom Browne team have had a great relationship since I was in Cleveland. We were having meetings and I was talking about cutting my clothes up and I ended up cutting the shorts. It was a suit and I ended up cutting the pants. Bron ends up doing it. We all ended up cutting our pants and making them into shorts. And this is not no cheap suits either. [Laughs.] They were all in the room like, "Man, why is he doing that?" But that was just my creative way of thinking.
I remember that moment in Cleveland. During the Finals, right?
Yeah. I was tired. I was like, "Man, we're in San Francisco. It's too hot, man. I got to be wearing this suit to the game? I got to cut these pants, bro." [Laughs.] Cause everybody wanted to be matching. We had a chain text where we all were talking about what we were wearing.
Some people were comparing your recent Thom Browne outfit to Russelle Westbrook's Met Gala fit. Has Russ influenced you in any way style wise?
I think so. But every designer has their own aesthetic. That's Thom Browne's thing. I think we just make the skirts look good.
Who made that giant crucifix pendant that you've been wearing?
That's a custom piece from Alex Moss. He does a lot of Tyler, the Creator's jewelry. I think he did a ring for Drake recently too. That relationship is pretty cool.
I also saw you were one of the guys that was part of that big Yeezy SHDZ campaign. What is your relationship with Ye?
Our relationship is great. I think that was something cool. Everybody around was influential. I was a part of that. It's Kanye. [Laughs.] I think it was great.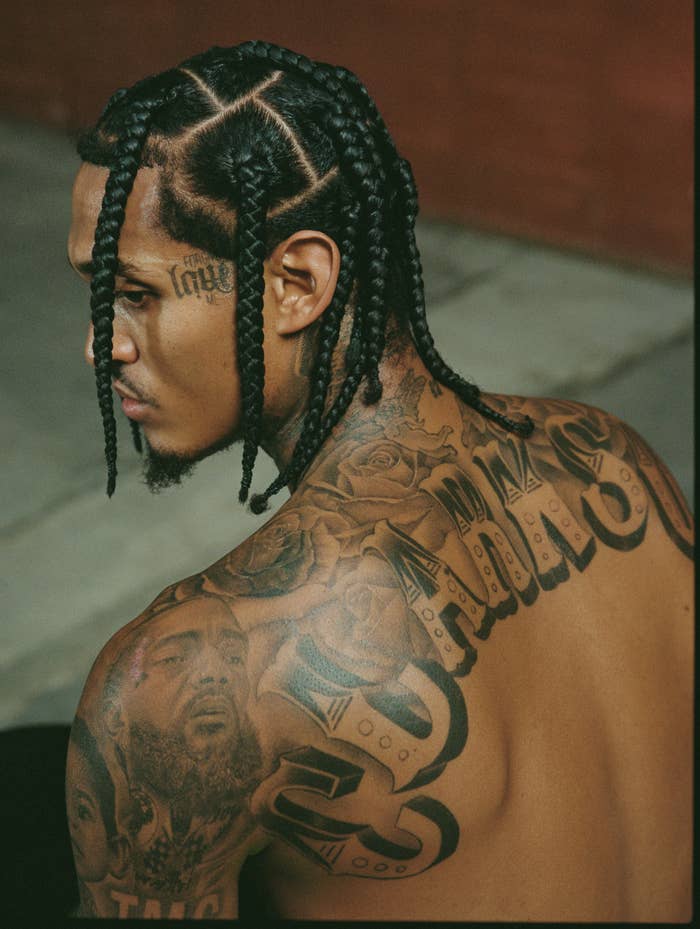 Image via Lululemon
I wanted to ask you real quick about your tattoos. Early in your career, you didn't have any and now you're pretty much fully covered. What made you want to get into that more and experiment with the tattoos?
It's something I always wanted to do. I just had to find the right people. I didn't want to have crazy tattoos when I was younger and then cover up a whole bunch of stuff. I think my mind played out in the right way. I ended up finding the right tattoo artist. I started real small. I didn't know which way I wanted to go. First, it was patchwork. Then, I wanted to go straight realistic. I'm going to put everything that's part of my story into one. That relationship happened organically too and now it's like one of my best friends. His name's Steve Wiebe. He's like a brother. He's family to me. I met him at the gym. I had some small tattoos. After that, I was getting tatted for a week straight. [Laughs.]
You've been doing it your whole career, but especially since you got to Utah, I feel like there's a lot of people that have put you in that conversation as one of the best-dressed players in the league. How would you describe your personal style?
I think it's free flowing. Anything that fits good. The crazy thing about clothes is that it's very creative in its own way, but I think the people that wear it make the pieces as well. Like, if you see Kim Kardashian wear a Marilyn Monroe vintage piece, it's just "the Marilyn Monroe piece" that was made by "blah, blah, blah." The person that wore it made the piece. So, I think it's all creative. I wear whatever I feel fits right, whatever feels good, whatever I feel like looks good. For me, there's no thinking. I wake up and grab stuff off the floor. If you look at my room for fashion week there's literally clothes all over the floor. That's how I get dressed.
Obviously, you're locked in on the games and what's going on on the floor, but you're also getting all these comments on your photos posted from the tunnel. Are you tuned into that in any way during the season?
Not so much, but I'm not looking at anything ever. It's just what it is. The best thing about everything is it's all love in some kind of way. If they're paying attention to it, it's all love. I don't think I've paid too much attention to anything where it affects me or my mental. That's going to throw off the game. I'm very locked in. People around me see what I do day in, day out. I wake up in the morning and go to work to focus on what I got to get done.
Do you have a favorite pickup from the offseason?
My biggest thing is the Lululemon trench coat right now. It's thick, but it's actually lightweight. Super fire. That's like my favorite piece ever. Seriously. I wore it in the shoot. It's very functional and something that I could wear every day.
Would you consider yourself the best-dressed player in the league?
Yeah. But at the same time, everybody got their own swag. Everybody got their own style. You see guys like Frank Jackson. I think he has his own wave. Kuz got his own wave as well. But I think I'm the best-dressed for sure. [Laughs.]
It's funny you brought those guys up. I talked to Kuz recently and he mentioned you and Frank Jackson.
That's crazy. [Laughs.] I love Frank Jackson. I feel like he's the most organic in who he is. That's so fire.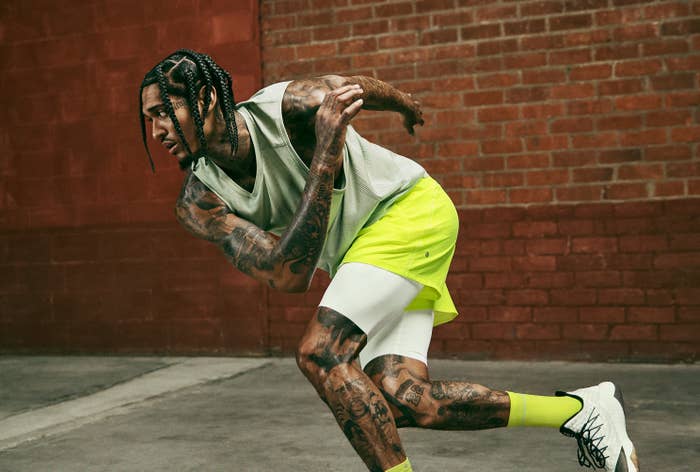 Image via Lululemon
On the court, a lot of teams are bringing back certain throwbacks this year. The Jazz are bringing back the purple mountain throwbacks. Are you hyped to get to rock those in a game?
Yeah, for sure. That's definitely an iconic jersey. The world is full circle. The '90s stuff is coming back. Everybody's wearing baggy clothes. I think it's all part of the flow. I think people remember those moments, you know, the Jazz going to the playoffs against Jordan with the mountain uniforms. I think the San Antonio Spurs got a crazy throwback. They brought the fiesta jerseys back like two, three years ago. Everybody bringing all these throwbacks back is super fire, bro. As young kids you watch people playing those jerseys. Now, you make it to the league and are able to put those on. It's way different. I think it's super dope.
As a Sixers fan, I'm still patiently waiting for the Iverson throwbacks to come back.
Yo, if those come back out that that's probably going to be the sickest thing ever. The black with the red. Oh my God. Those are like the best jerseys ever. And they can't make 'em cropped. They gotta be big, bro. Cause the Lakers did the Showtime jerseys and had Kobe wearing the small shorts. So, they got to bring the super baggy shorts back out. Something crazy.
Sticking to basketball, there's been a lot of stuff going on with the Jazz this offseason. The team lost Donovan Mitchell and Rudy Gobert. Given all of the big shifts, what is your outlook on the upcoming season?
Honestly, we'll see. I'm ready for whatever happens. I've been in the league for nine years now. I'm kind of a young vet in this. So, whatever direction management, owners, and the team are trying to go, I'm ready for it. If I'm in a different jersey in a week or tomorrow I get a phone call and I have to put on whatever jersey it is, I'm just trying to win and take whatever team it is to the next level to hopefully win a championship one day. That's my outlook on it. If I'm here in Utah, I want to win. I want to strive for the playoffs, try to put a team together that could win something. It's hard to go down from [where we were], bro. We've been winning for like three years straight. We had the best record in the league two years ago. This last year wasn't the greatest, but we still finished top four in the West. We had another chance to win a championship and it all got squandered. It gets frustrating, but the sun comes out the next day and you've got to figure it out.
Trades and moves are a part of the NBA. Some fans still talk about that young Lakers core with you, Julius Randle, Brandon Ingram, and D-Lo. You guys all moved on to other franchises and achieved your own accolades. Have you ever thought about what if you guys stayed together and what you could have done if you got a bit more time to grow together?
I don't think it ever was going to work with all of us being there. [Laughs.] I think we all were stars in our own right. Us separating and going into our home lanes was a good change of scenery for everybody. I see the tweets and all that stuff. It's so funny to look back on it. I think the Lakers did a great job of scouting us, finding the talent, and giving us the opportunity by drafting us. But us all being on the same team, I don't think it ever would've worked out. We probably wouldn't have brought a championship back to them or none of that, you know what I mean? They got LeBron for us, whatever it is. It's part of the game. All of us were stars in our own roles. We had to get a change of scenery to let us grow in other ways.
I saw you playing for the Philippines. Can you talk about what that has meant for you and what basketball means to that country?
It's great just being able to represent the country. I always feel the love. I always feel the support. I love and cherish all the moments that I can share with that country and represent and put on. Hopefully, we get a good pool for the World Cup next August and we are able to win some games and qualify for the Olympics. That's my biggest goal for the national team and for the country.