Phoenix Suns forward Kevin Durant, left, celebrates with forward Yuta Watanabe following the team's NBA basketball in-season tournament game against the Utah Jazz on Friday, Nov. 17, 2023, in Salt Lake City. (AP Photo/Rick Bowmer)
Kevin Durant scored 38 points and Devin Booker had 24 points and a career-high 15 assists to boost the Phoenix Suns to a 131-128 win over the Utah Jazz in an NBA In-Season Tournament game Friday night.
Durant's 3 lifted the Suns to a 124-115 lead before the Jazz rallied to get within one point in the final minute. Durant struck again with his sixth 3 with 18 seconds left.
Durant also collected nine rebounds and nine assists. He has scored at least 25 points in 11 straight games for the longest active streak in the NBA.
Jordan Clarkson scored a season-high 37 points for Utah. He has four straight games with 26 or more points, the longest such streak of his career.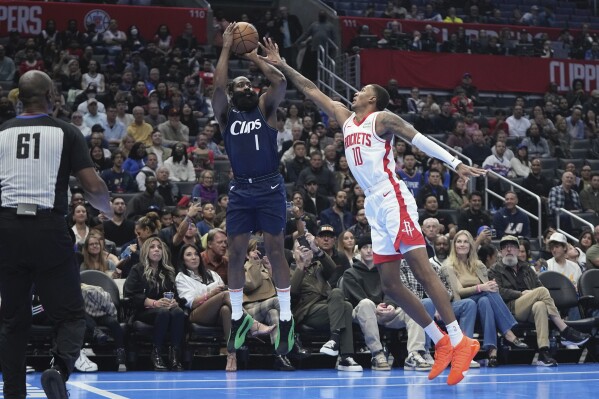 James Harden's tiebreaking 4-point play snaps Clippers' 6-game skid, beats Rockets 106-100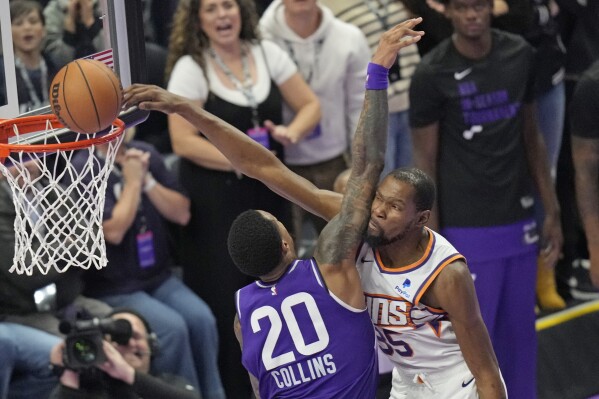 Durant scores 38 and Booker has a career-best 15 assists to boost the Suns past the Jazz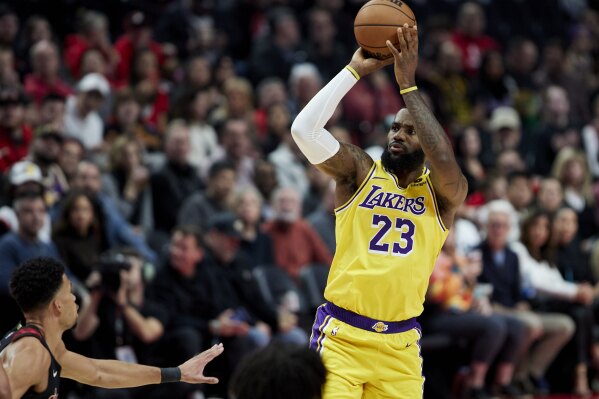 James has 35 and Lakers stay atop In-Season Tournament group with 107-95 win at Portland
Lauri Markkanen scored 21 points for Jazz, and John Collins had 15 points and 14 rebounds.
The Suns (6-6) improved to 1-1 in West Group A while the Jazz (4-8) dropped to 2-1.
CLIPPERS 106, ROCKETS 100
LOS ANGELES (AP) — James Harden hit a tiebreaking 3-pointer while getting fouled with six seconds to play, sending the Clippers to their first victory since his arrival and snapping their six-game losing streak.
ADVERTISEMENT
Harden dramatically drew the foul from Jae'Sean Tate and drilled his vintage 26-footer from atop the key before completing the four-point play to secure the win for the Clippers, who had lost their first five games since acquiring Harden from Philadelphia.
Kawhi Leonard scored 26 points for the Clippers. Harden had a season-high 24 points, nine rebounds and seven assists against the Rockets, his team for nine seasons from 2013-21.
Alperen Sengun had 23 points and eight rebounds for the Rockets, whose six-game winning streak ended because they allowed the Clippers to finish the game on a 12-1 run.
LAKERS 107, TRAIL BLAZERS 95
PORTLAND, Ore. (AP) — LeBron James matched his season high with 35 points and Lakers handed the Trail Blazers their sixth straight loss.
ADVERTISEMENT
Anthony Davis added 16 points and 14 rebounds, and the Lakers moved to 3-0 in Group A of the In-Season Tournament.
Jerami Grant had 24 points for Portland. With the loss, the Blazers fell to 1-2 in the tournament and were eliminated from a shot at winning their group.
The Lakers led by as many as 17 points in the final quarter. Rui Hachimura's 3-pointer put Los Angeles in front 97-83 with just over seven minutes left, sending fans to the exits.
CELTICS 108, RAPTORS 105
TORONTO (AP) — Derrick White made a tiebreaking 3-pointer with 26.8 seconds remaining, lifting Boston to the victory in an In-Season Tournament game.
ADVERTISEMENT
Jaylen Brown scored 23 points and Kristaps Porzingis added 14 points and 12 rebounds as the Celtics won their sixth straight meeting with Toronto. Jayson Tatum scored 17 points for Boston, Jrue Holiday had 14 and White 13.
Boston improved to 2-0 in tournament play after beating Brooklyn last Friday.
Toronto's Scottie Barnes got open for a 3-pointer with 11 seconds left that would have tied the game, but his shot bounced off the rim.
Pascal Siakam and Dennis Schroder each scored 23 points for the Raptors. Gary Trent Jr. and Barnes both scored 14 points.
ADVERTISEMENT
76ERS 126, HAWKS 116
ATLANTA (AP) — Joel Embiid had 32 points, eight assists and seven rebounds, leading Philadelphia to the victory in an NBA In-Season Tournament game.
The Sixers improved to 2-1 in Group A play, with one game remaining. The Hawks dropped to 1-1.
Tobias Harris had a season-high 29 points and 10 rebounds for the Sixers, who snapped a two-game losing streak. Tyrese Maxey finished with 19 points and eight assists.
Trae Young led six Hawks in double figures with 22 points. Young also had 13 assists. Jalen Johnson had 18 points and 10 rebounds.
The Sixers hit 27 of 28 free throws.
BUCKS 130, HORNETS 99
CHARLOTTE, N.C. (AP) — Damian Lillard scored 27 points, Malik Beasley added 20 and the Bucks remained unbeaten in NBA In-Season Tournament play.
Giannis Antetokounmpo had 16 points, nine assists and eight rebounds for the Bucks, who have won three straight. Beasley made six 3-pointers and Lillard had five as the Bucks went 22 of 45 from beyond the arc.
Milwaukee's victory sets up a key showdown on Nov. 28 in Miami against the Heat, the only other undefeated team in East Group B. Both teams are 2-0 in tournament play.
LaMelo Ball scored 37 points for the Hornets. Mark Williams had 11 points and 16 rebounds.
Charlotte's Miles Bridges looked strong in his first NBA action in 583 days, scoring 17 points on 6-of-13 shooting in 33 minutes. Bridges missed all of last season and served a 10-game suspension to start this year for his role in a domestic violence incident in 2022.
PELICANS 115, NUGGETS 110
NEW ORLEANS (AP) — Zion Williamson scored 26 points and Brandon Ingram added 21, leading New Orleans to the victory.
Williamson and Ingram each scored twice during a late 8-0 run and the Pelicans narrowly held on after Kentavious Caldwell-Pope, Reggie Jackson and Aaron Gordon each missed 3-point shots for a tie game during the same possession in the final 30 seconds.
Jonas Valanciunas scored 22 to help New Orleans win its second straight NBA In-Season Tournament game.
Nikola Jokic had 26 points, tied a career high with 18 assists and grabbed 16 rebounds for the Nuggets. Christian Braun had 24 points.
KINGS 129, SPURS 120
SAN ANTONIO (AP) — De'Aaron Fox scored a season-high 43 points, and the Kings remained undefeated in the NBA In-Season Tournament.
Domantas Sabonis had 27 points and 14 rebounds as Sacramento won its fifth straight. Malik Monk added 20 points in the Kings' fourth straight win in San Antonio.
Spurs rookie Victor Wembanyama had 27 points and nine rebounds. He was 12 for 26 from the field after scoring a season-low eight points in a 123-87 loss at Oklahoma City on Tuesday.
Zach Collins had 28 points and Keldon Johnson added 21 points for the Spurs, who have lost seven straight.
KNICKS 120, WIZARDS 99
WASHINGTON (AP) — Jalen Brunson scored 32 points, Immanuel Quickley added 27 and the Knicks eliminated the Wizards from contention in the NBA In-Season Tournament.
Washington has dropped all three of its games so far in this new tourney. The Knicks improved to 1-1. Teams play four games apiece in the preliminary round, with the six group winners and two wild cards advancing.
New York has won five of six overall and sent the Wizards to their fifth straight defeat.
Julius Randle scored 22 points for New York. Kyle Kuzma led the Wizards with 19, and Deni Avdija added 18.
CAVALIERS 108, PISTONS 100
CLEVELAND (AP) — Darius Garland had a season-high 28 points and Evan Mobley and Max Strus scored 18 apiece as the Cavaliers handed the Pistons their 10th consecutive loss.
Mobley also had 10 rebounds and five assists, and rookie Craig Porter scored a career-best 12 points in 16 minutes for Cleveland, which returned home after a 2-2 West Coast trip. Jarrett Allen had 10 points and five blocked shots.
Cavaliers shooting guard Donovan Mitchell, who is averaging 29.2 points, did not play because of a right hamstring strain.
Cade Cunningham had 20 points and eight assists for Detroit in the In-Season Tournament game. The Pistons have the worst record in the league at 2-11, last winning on Oct. 28 against Chicago.
MAGIC 103, BULLS 97
CHICAGO (AP) — Franz Wagner scored 21 points, Jonathan Isaac added 18 and the Magic beat the Bulls in an NBA In-Season Tournament game.
For the second time in three nights, Orlando held Chicago to 33 points in the first half and blew a lead after going up by 19. But just as the Magic did in Wednesday's 96-94 win at the United Center, they came away with a wild win.
Wagner drove for a go-ahead three-point play in the final minute. Isaac hit two free throws to make it a four-point game with 12 seconds left, sending the Bulls to their seventh loss in nine games.
Zach LaVine led Chicago with 35 points. DeMar DeRozan scored 23 after missing a game due to personal reasons.