After winning three straight championships in 1991, 92, and 93, Michael Jordan shocked the world by taking a hiatus from basketball in the summer of 1993 following the passing of his father. MJ would return to play again in 1995, but not before letting the Houston Rockets win back-to-back titles under the leadership of Hakeem Olajuwon.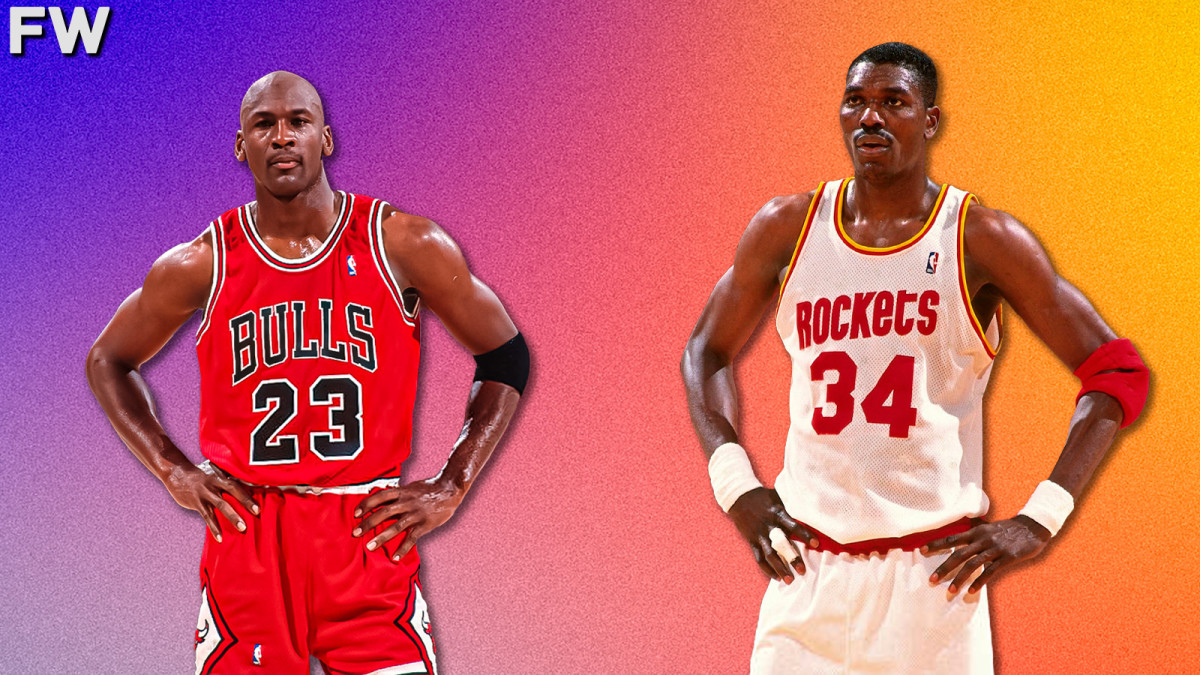 In the 1994 postseason, Chicago didn't even come close with a second-round loss to the New York Knicks in seven games. And despite MJ's return in the second half of the 1994-95 season, the Bulls still lost against the Magic in the Eastern Conference Finals that year. However, according to former Bulls point guard Toni Kukoc, he firmly believes that his Bulls team would have beaten Hakeem's Rockets in the Finals that year had they just taken care of business against Orlando. "I think we would've beat them. We beat them that year in every game we played," said Kukoc in a chat with Brandon 'Scoop B' Robinson.
The Rockets and Bulls faced off three times in the regular season that year, with the Bulls only winning two of the matchups. Houston's lone win came on November 17th, when Olajuwon dropped 29 points and 14 rebounds as a sign of things to come.
That season ('94-'95), the Bulls only ranked 5th in the East with a 47-35 record, but they went 13-4 when no. 23 returned that season, hinting that they would soon reclaim their place at the top of the NBA food chain.
Kukoc: "Hakeem is The Best Center Of All-Time"
The Bulls dominated the 90s with unprecedented prosperity, but Hakeem was able to take advantage of Jordan's retirement like nobody else. He was a monster throughout his career, with his greatest masterpiece being the '95 Finals, where he put up 32.8 points, 11.5 rebounds, and 5.5 assists per game in a four-game sweep against the Magic.
"Hakeem was just something else when it comes to basketball skills," said Kukoc. "To me, he's the BEST center of all time. When it comes just to the basketball skills, the fundamentals of basketball – I'm not talking power. I mean, Shaq being that strong, being that mobile, and that big… what do you present to say to him that I'm going to guard you with this… in the event when you see Olajuwon with his size and his weight and you say Okay. Maybe there's a chance that I can guard this guy, but then he shows you all these moves."
Hakeem is often looked over when discussing other top bigs like Shaq or Kareem Abdul-Jabbar, but his career stacks up against the best when you consider his resume as a 12x All-Star, 12x All-NBA player, 2x Defensive Player of the Year, 1994 MVP, and 2x champion.
Sadly for the Rockets, their run came to an end after the 1995 Finals and the Bulls went on to win the next three championships. To this day, many wonder if they could have won eight straight titles that decade had Jordan never taken a break.
The Bulls Could Have Won 8 Straight
Even without MJ, the Bulls were a solid squad with guys like Scottie Pippen, Dennis Rodman, and Steve Kerr among others. They carried the torch for almost two years without their superstar, and while they couldn't get the job done they got much farther than the skeptics predicted…
"I'm SURE that we would've beaten Houston but I think that we would've been… it was different matchups. I think that we were better outside and obviously they were better inside, but we had lots of guys that could spend fouls on Hakeem," said Kukoc.
With a perfect 6-0 record in the Finals, we know that Michael Jordan would have taken care of business against the Knicks, Magic, and Rockets in the 1994 and 1995 playoffs. With an 8-0 record, or even 7-1, it would have only solidified MJ's already impenetrable legacy. Unfortunately, we'll never get the chance to find out for sure.