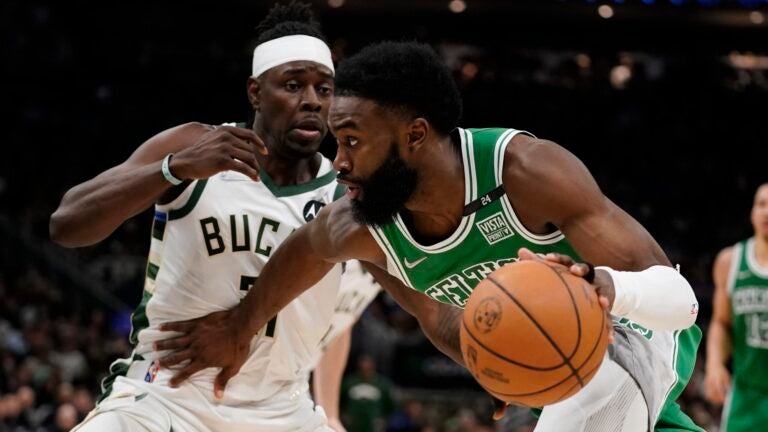 The Celtics' standing as the top contender in the Eastern Conference received a significant challenge on Wednesday evening.
The Milwaukee Bucks — already considered Boston's primary threat in the road back to the NBA Finals — bolstered their roster by way of a three-team trade involving the Trail Blazers and Suns, reportedly adding seven-time All-Star Damian Lillard in the blockbuster swap.
Lillard's lights-out shooting and playmaking should further boost a stout Bucks roster anchored by two-time MVP Giannis Antetokounmpo. But the Bucks did need to subtract from their roster to facilitate the deal, headlined by veteran point guard Jrue Holiday and a bevy of draft picks.
Holiday was a key cog for the Bucks, with the two-time All-Star earning five All-Defensive Team nods over the course of his career. And with the point guard set to join a rebuilding Portland team, the Blazers could opt to move him to another contender who could use his playmaking acumen and defensive intensity.
Former Celtics swingman (and assistant coach) Evan Turner believes that's where the Celtics should come in.Turner thinks the Blazers should make things a bit easier for Brad Stevens and Co. to accommodate the impact guard.
"Portland, buy Jrue out so he can sign to the Celtics," Turner posted to the X platform shortly after news of the Lillard trade broke. "I'm trying to see something real quick."
Such a course likely won't be charted out by Portland, given the additional assets that they should be able to add if they move Holiday to the highest bidder.
But could the Celtics realistically get involved in the sweepstakes for Holiday?
Boston has been connected to the talented point guard in the past, with Kevin O'Connor of The Ringer reporting back in 2020 that Boston was interested in plucking Holiday from the Pelicans before he eventually landed in Milwaukee.
With Boston shipping Marcus Smart to Memphis in another three-team deal that brought in Kristaps Porzinigis, the Celtics' backcourt is due for an overhaul this season.
Derrick White is expected to replace Smart as Boston's starting point guard, but questions remain about how much defensive integrity the Celtics have relinquished this offseason following the departures of both Smart and Grant Williams.
Acquiring Holiday would help Boston in various segments of the roster, but it remains to be seen what Stevens would be willing to part with. Even though veteran guard Malcolm Brogdon could be an intriguing trade chip, it seems unlikely that Portland would have use in another guard who is already in his prime at 30 years old.