Archaeological hoaxes and pseudoscientific claims are nothing new. Photos and videos of mythical "giants" or their remains, including bones and skulls, have been a permanent feature of the conspiracy theorist corners of the internet for years, finding a new lease of life with the emergence of AI-generated content.
But was a real oversized hominid unearthed, or was it just more social media fee-fi-fo-fum? Newsweek Misinformation Watch did some digging into the story.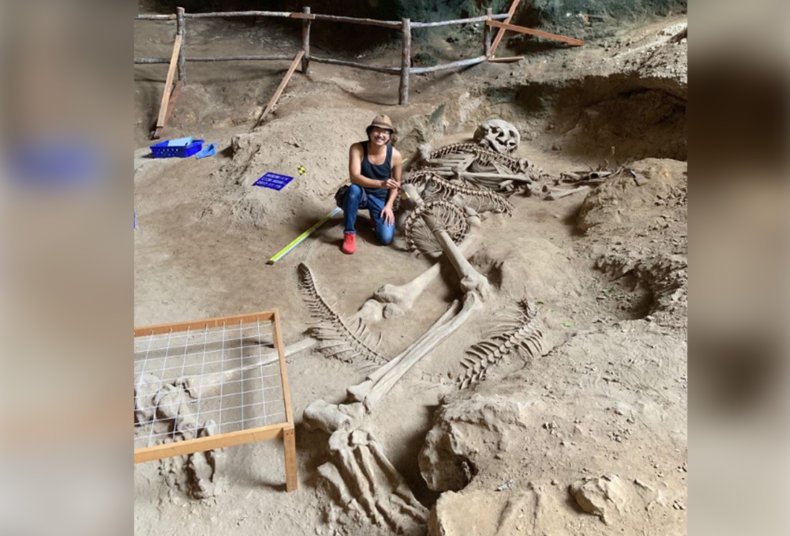 A tweet posted on July 4 by "nikola 3," an account known to publish and share misleading material and misinformation, appeared to show an archaeological site where a group of scientists were excavating what looks like a giant skeleton.
"The skeleton was found in Taiwan," said the caption on the tweet, which was viewed more than 220,000 times (and archived here).
The clip appears to have been taken from a TV news report, with initial commentary in English spoken with a thick (likely Eastern European) accent before the audio switches to another language, possibly from the original news report.
Eerie, unsettling music plays in the background throughout the 49-second clip.
Reverse image and keyword searches by Newsweek brought up a number of previous iterations of this claim, with photos or images of the "giant"—allegedly found in the Khao Khanap Nam caves in Thailand—surfacing in March 2023, as well as in 2022, 2021 and earlier, on various platforms.
One of the previous posts about the alleged "discovery" shared additional details, claiming that it was Thailand—not Taiwan—where the site was located.
"The skeleton of this giant was discovered in November 2017 in a cave in Krabi, Thailand. This was made public a few months ago. The skeleton appeared to have fought a big horned snake to death," the caption said.
However, as Newsweek found, the "giant skeleton" is in fact the latest example of "zombie misinformation," a piece of misleading or out-of-context content that crops up and often goes viral on social media, even after it is proved to be false or fake.
In this case, the "giant" was neither an archaeological bombshell nor a planted or AI-generated hoax (as is often the case). It was merely an art exhibition, held in Thailand in 2018, as confirmed previously by Reuters and Snopes, among others.
The work of art, called Giant Ruins, was created by the Taiwanese artist Tu Wei-cheng for the Thailand Biennale, an international exhibition of contemporary art. It was reported on by the Taiwanese media at the time, with Taiwan Today detailing "two large-scale installations by Taiwan creators featuring the skeletons of a giant and a snake and a long tail boat."
The artist was given special permission for his piece to be exhibited in the Khao Khanap Nam caves, the report said, citing Taiwan's Ministry of Culture.
Although scientists so far have found no convincing evidence to support the current or past existence of human or hominid giants (though some of our predecessors are believed to have been much taller), their myth is firmly imprinted in the culture and folklore of communities around the world.
More recently, interest in the topic has been reignited through a social media misinformation trope (with fake images or practical hoaxes) shared alongside the "giant skeleton" narratives. This has resurfaced regularly on Twitter and other platforms.
Some ultra-realistic and rather convincing examples of these fake giants have been created with AI-based image-generating tools, in what is perhaps a more innocuous example of the threat posed by this technology.