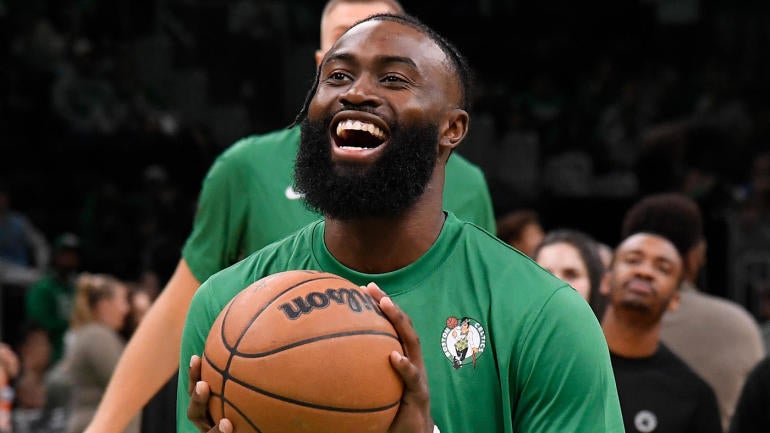 Brown noticed his mistake early in the first quarter
Ah, the NBA preseason — a time for turnovers, missed shots and teams closing games with players you've never heard of. In the biggest preseason spectacle so far, the Boston Celtics and Philadelphia 76ers met at Wells Fargo Center on Sunday in a nationally televised, primetime game that actually featured a decent number of the teams' stars.
Joel Embiid and James Harden didn't suit up for the 76ers, but both Kristaps Porzingis and Jrue Holiday made their debuts for the Celtics, with Jayson Tatum and Jaylen Brown also taking the floor.
It was Brown who made headlines early on, however — in the most preseason way possible. Just a few minutes into the first quarter, Brown was notified of a minor wardrobe malfunction. His white and green Celtics shorts, as he was so kindly informed, were on backwards.
"I don't know that I've seen this before," said Celtics commentator Brian Scalabrine. "I just saw the Celtics logo in the back and I'm like, wait a minute here. Maybe it's a new style trend."
It's not great, but it's not even the worst shorts-related faux pas we've seen in recent NBA history. Former Los Angeles Laker Michael Beasley once tried to check into a game wearing black practice shorts, when the rest of his team was wearing gold game shorts.
Brown later reversed his shorts to restore order to the world and continued to play at the level we're accustomed to seeing.
During the offseason, the Celtics made Brown the NBA's first $60 million per year player, when they signed him to a five-year, $304 million extension. The compensation was presumably for his All-NBA caliber basketball and not necessarily for his ability to get dressed.